JUNE 14, 2010
Devil Eyes US Tour w/ Univox!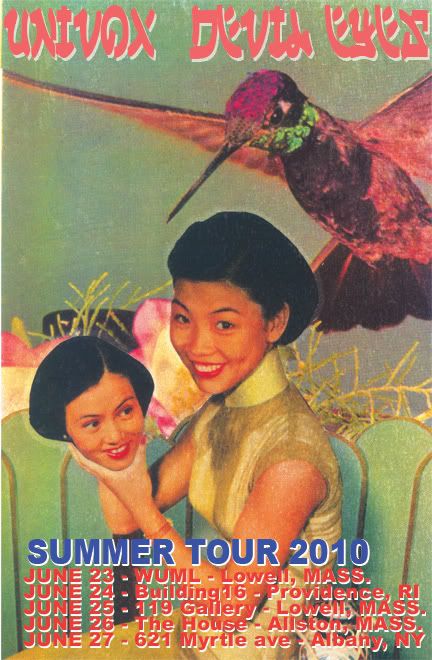 Devil Eyes hit the road once again for a mini US tour with ROIR's Univox. Click on the poster for tour details!



June 23rd // Lowell, Mass // WUML Bedlam: The American Dream on WUML


June 24th // Providence, RI // Building 16


Jund 25th //Lowell, Mass // 199 Gallery


June 26th // Allston, Mass // The House


June 27th // Albany, NY // 621 Myrtle Ave.



For their homecoming, Devil Eyes pair up with Red Mass & Meta Gruau for the 3rd edition of M for Montreal's Mini-M!



July 1st // Montreal, QC // Mini M @ Café Campus



Crabe
Ero Gaki
Devil Eyes
Devil Eyes
Red Mass
The Red EP
digital only
Nutsak
Last Train to Nutsak, New Jersey
Audio MP3
Devil Eyes
Noctilucent Ghost
Audio MP3
Crabe
Pénis-Céline
Audio MP3
The Nymphets
I See
Audio MP3
Fiftywatthead
Fogcutter
Audio MP3
Devil Eyes
Rip My Heart Out
Audio MP3
No No Zero
Ass Commando
Audio MP3